More than three million Venezuelans have fled their country. In overcrowded border towns, they need urgent support.
As the economic crisis in Venezuela deepens, PADF is providing urgent services to displaced Venezuelans.
It's an increasing challenge, and it's affecting the entire hemisphere. Venezuelans are fleeing their home country in unprecedented numbers, as over 3 million migrants packed their bags and left the country. Many have ended up in Colombia, but the massive exodus has spread Venezuelan migrants throughout South America, the Caribbean, and as far as Spain.
However, their destinations are far from ideal. In new South American host countries, many Venezuelan migrants have ended up occupying old buildings or living on the streets. They struggle to generate an income and find health services for their children.
#helpmigrants campaign
We are launching a regional response to help Venezuelan migrants: #helpmigrants. The #helpmigrants initiative aims to create jobs, strengthen educational and medical services, improve housing, and attend to other basic needs of Venezuelan migrants. Additionally, we are launching an anti-discrimination campaign so that victims of the Venezuelan crisis may seek new opportunities without facing prejudice.
Because of the #helpmigrants campaign, local communities will be able to better cope with the influx of Venezuelan migrants, and the migrants themselves will be able to provide for their basic needs.
You can be part of the campaign, too! By donating, you are not only standing in solidarity with hundreds of thousands of displaced people. You are also providing stability and new opportunities to thrive.
Support displaced Venezuelans – Donate Now.
Your donation will be used to provide further assistance to displaced Venezuelans.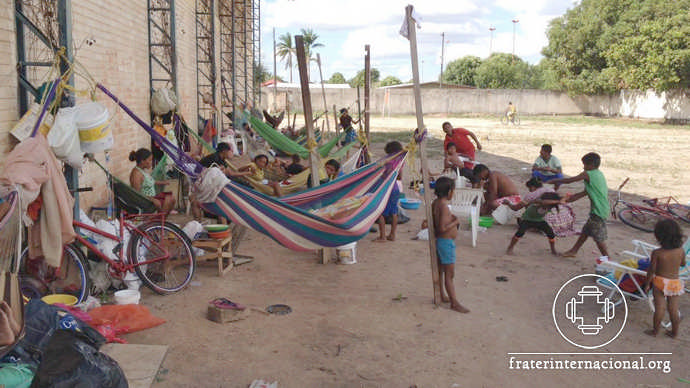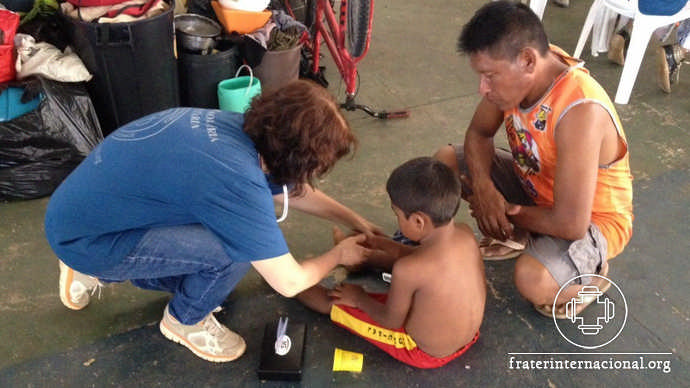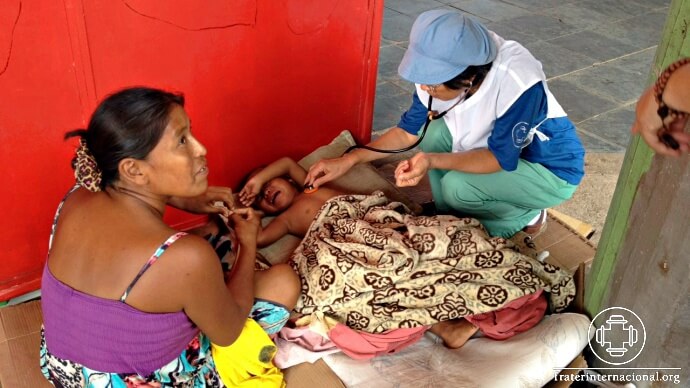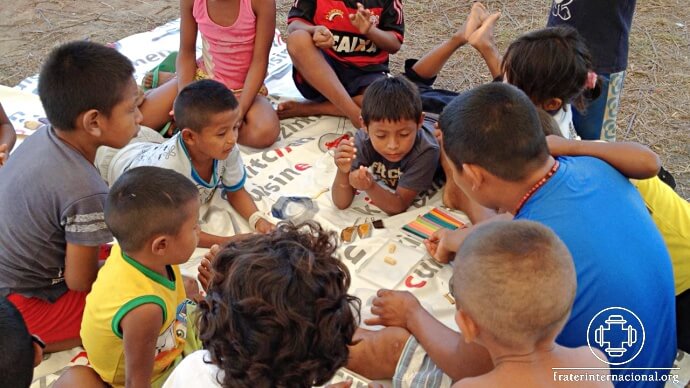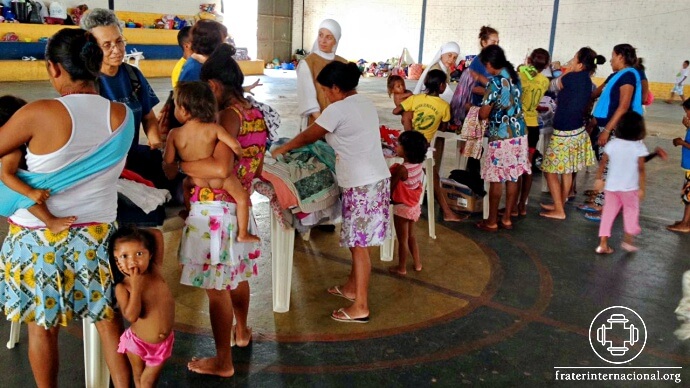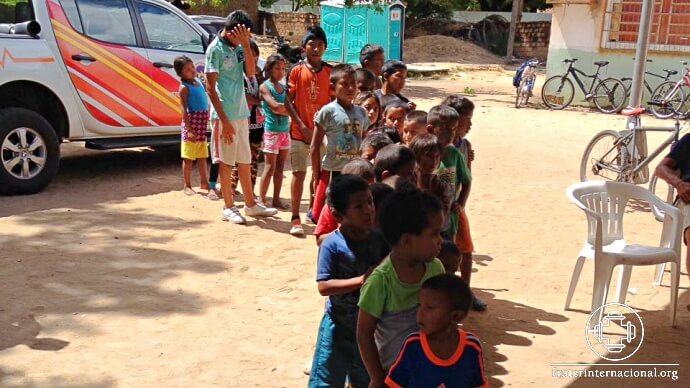 Brazilian shelter receives medical clinic and school from Canada & PADF
In February 2018, a Brazilian shelter housing indigenous Venezuelans received new facilities.
In response to the crisis, PADF has teamed up with Global Affairs Canada to help mitigate the issues that refugees and migrants are facing in Brazil.
On February 5, Canadian Ambassador to Brazil, Riccardo Savone, inaugurated two new facilities at a shelter in Boa Vista, Brazil.
PADF sent two converted shipping containers to serve as a school and a clinic to the Brazilian shelter, operated by Fraternidade - International Humanitarian Federation. The new facilities contain air conditioning, windows, flooring, restrooms, electrical outlets and other amenities. They were stocked with medical and educational supplies to serve as functional educational and medical spaces within a short time.
This assistance is part of PADF's larger effort to respond to the Venezuelan refugee and migrant crisis in Brazil. As a 501(c)(3) non-profit organization affiliated with the Organization of American States, PADF is leading an international campaign to assist local institutional institutions and relief efforts and has launched a campaign to raise US$100,000 to support local shelters and displaced Venezuelans through contributions from government institutions, foundations, philanthropists and individuals.
Venezuela Humanitarian Crisis: Regional Response Urgently Needed
"Thousands have gone to Brazil, many entering via the border that Venezuela shares with the Brazilian state of Roraima. Some seek protection there as refugees, others seek temporary work, while others make visits seeking desperately needed medical care. The unprecedented influx of Venezuelans is straining Roraima's already overburdened public health care system and clogging Brazil's system for processing asylum applications." Read more.
Boa Vista becomes destination for a legion of refugees from Venezuela
"The second stop for Venezuelans arriving in Brazil is the capital of Roraima , Boa Vista. Many go to other cities or try to start life in other countries in South America, but many people stay in Boa Vista in makeshift shelters.
Boa Vista has become the destination of a legion of hungry, desperate people trying to find a new course for life. Venezuela in those who left everything behind by absolute lack of perspective in the native land. For many, life is starting again at 20, 25, 30, 40 years." Read more.
How Your Contribution Helps
Your contribution will go toward our relief efforts for Venezuelan migrants and refugees. We have partnered with the Immigrant Reference Center in Boa Vista, Roraima, Brazil, and your donation will go toward supporting the shelter. With your help, we can serve displaced Venezuelans who are taking shelter in Brazil.
PADF has an extensive network in the region that includes community based organizations in the affected areas. As the humanitarian arm of the Organization of American States (OAS), PADF responds to the region's major natural disasters and humanitarian crises.
About the Immigrant Reference Center
Run by the Fraternidade International Humanitarian Federation, the Immigrant Reference Center in Boa Vista is the focal point for assisting Venezuelan refugees and migrants in northern Brazil. They provide three meals per day, hygiene products, medical services, job placement and limited legal assistance. Improving conditions at this shelter and strengthening Fraternidade's capacity to serve Venezuelans throughout Roraima are vital first steps in helping refugees and migrants in the area. The shelter currently houses approximately 280 Venezuelans, but it is ill-suited for long-term stays. There are no areas for privacy, medical attention, or on-site administrative work, and many refugees and migrants sleep on the concrete floor. The shelter also lacks adequate restrooms and transport to shuttle refugees and migrants elsewhere or aid them in traveling to complete actions for attaining refugee status.
PADF's top priority is to make a lasting and sustainable impact in the lives of millions of people in the Americas.
To achieve this, we work with public, corporate and private supporters like you to create sustainable jobs and improve livelihoods, upgrade community services, strengthen civil society and organizations, and aid victims of natural and humanitarian crises. By making a tax-deductible gift you are helping fulfill our mission to create a Hemisphere of Opportunity for All.